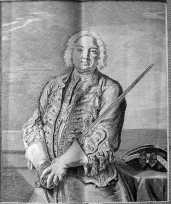 Author: Captain James Miller.
Published: 1735, UK
Weapons covered: backsword, sword, buckler, sword and dagger, sword and great gauntlet, falchion, quarterstaff.
Format: HTML
Transcribed by Jonathan Miller.
Format: PDF
You may wish to download a PDF (4.3 MB) supplied to us by Mr Jared Kirby of The Art of Combat.
It appears that the plates in the original publication are incorrectly numbered.
Each engraving contains a number in the upper left hand corner, which ought to correspond with the caption on the first page. However, some of these are incorrect. Plates 4 and 5 (St George and Hanging Guard) have been swapped over, as have plates 9 and 10 (outside and inside guard with falchion). Plate 15 is missing from the PDF (it may be missing from the book itself).